Folks who know me know that I am not a huge fan of the whole "Blu-ray" movement and the way it's being forced down our throats by the studios, and only a few years after "standard" DVD had been released. As far as I'm concered, picture quality is based on the kind of TV you own, not the DVD player.
Lately though, Blu-ray releases have been getting my attention with great bonus features(don't think I haven't noticed the lack of bonus's on standard, assholes).
One release I've been anxiously waiting for is the Kill Bill: Whole Bloody Affair! WTF TARRANTINO! GET OFF YOUR LOVE BOAT WITH ELI ROTH AND RELEASE THIS GODDAMN MOVIE!
*breathes into paper bag*
Ok... GRINDHOUSE finally gets released as it was released in theaters back in 2007! Here's the list of what's included as well as box art: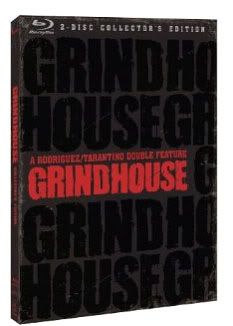 Disc 1 - Theatrical Exhibition:
* Grindhouse Feature (Planet Terror)
* Intermission Cards
* Don't Trailer
* Werewolf Women of the S.S Trailer
* Thanksgiving Trailer
* Grindhouse Feature (Death Proof)
Disc 2
Planet Terror
* Robert Rodriguez's 10-Minute Film School
* The Badass Babes of Planet Terror
* The Guys of Planet Terror
* Casting Rebel
* Sickos, Bullets, And Explosions: The Stunts of Planet Terror
* The Friend, The Doctor, and the Real Estate Agent
* Planet Terror Poster Gallery
Death Proof
* Stunts On Wheels: The Legendary Drivers of Death Proof
* Quentin's Greatest Collaborator: Editor Sally Menke
* The Guys of Death Proof
* Kurt Russell as Stuntman Mike
* Finding Quentin's Gals
* The Uncut Version of "Baby, It's You" performed by Mary Elizabeth Winstead
* Introducing Zoe Bell
* Double Dare Trailer
* Death Proof Extended Music
* Death Proof Poster Gallery
Blu-Ray exclusive bonus features:
* Robert Rodriguez's 10-Minute Cooking School
* The Makeup Effects of Planet Terror
* The Hot Rods of Death Proof
* From Texas to Tennessee: The Production Design of Death Proof
* Trailers
* Extended Werewolf Women of The SS Trailer
* View Extended Cut Of Werewolf Women of the SS Trailer with Commentary by Director Rob Zombie
* The Making Of Werewolf Women of the SS Trailer
* Extended Don't Trailer
* View Extended Cut Of Don't Trailer with Commentary by Director Edgar Wright
* The Making of Don't Trailer
* Don't Storyboard/Trailer Comparison
* View Don't Storyboard/Trailer Comparison with Commentary by Director Edgar Wright
* Don't Storyboards Still Gallery
* Don't Poster
* The Making of Thanksgiving Trailer
* New York Times Talk with Quention Tarantino and Lynn Hirschberg at Comic Con 2006 Featuring the Directors and Cast of Grindhouse
* Grindhouse Trailer Contest Winner Hobo With A Shotgun